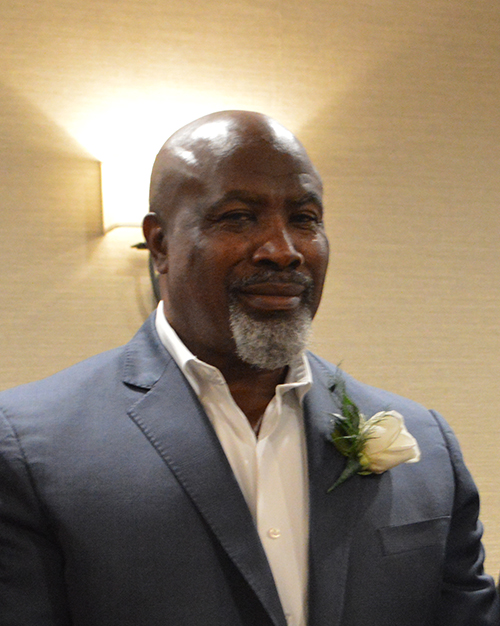 2022 Distinguished Alumni
Mr. Joel Bien-Aime '83
Mr. Joel Bien-Aime immigrated from his native country, Haiti, in 1976 to live with his father and further his education in the US. He became proficient in English and graduated from John Jay High School in Lewisboro, NY. After relocating to Johnstown, he attended FMCC. During his studies at FMCC, Joel was instrumental in starting the 1st Black Student's Union and was the President of the International Club. Joel is grateful to Professor Mastrangeli, Professor Recesso, Professor Pasqualino, Dean Vadney, and Dr. Pilkey, who made a lasting impression on him by opening his eyes and mind to a world that otherwise did not exist. After graduating from FMCC in 1983, he attended Utica College and Empire State College. He has been employed by Lexington, Saratoga ARC, and Office of Children and Family Services at Tryon Boys and Girls Centers in various Human Services positions.
In 1996 the Bien-Aime family purchased New Process Cleaners. Since its acquisition, Joel has updated the business with the newest equipment and cutting-edge technology. He attends many dry-cleaning conventions and trainings to update his knowledge as a specialist of cleaning various clothing and materials. In March 2020, at the height of the pandemic, New Process Laundromat in Amsterdam was opened. Joel is an active member of various dry-cleaning organizations, Amsterdam Rotary Club, and the Johnstown Lions Club.
Joel married his sweetheart, Emilie Valcin, in 1987 and they have three precious children; Tatiana, Evelina and Simeon.
Joel strives to provide the highest level of service and quality to the customers that are served at New Process Cleaners and New Process Laundromat while maintaining a positive attitude and his faith in God.
Get to know Joel Bien-Aime | Fun Facts
Favorite Song: How Great Thou Art
Favorite Singer: Bob Marley
Favorite Movie Pal Joey
Favorite Sport: Kick Boxing
What did you want to be when you were growing up: Actor
3 things you must have if you were deserted on an island: My Family, Good Scotch, Music
First Car owned: 710 Datsun
Favorite Past time /Hobby: Woodworking, Reading
Something on your bucket list: Visit all the Caribbean Islands
Person you admire the most: Friedich Nietzsche Philosopher
Pets /Favorite animal: Bonne the Mule
Favorite place to visit/vacation: Republica Dominicana
Something you do to unwind: Go to the Gym