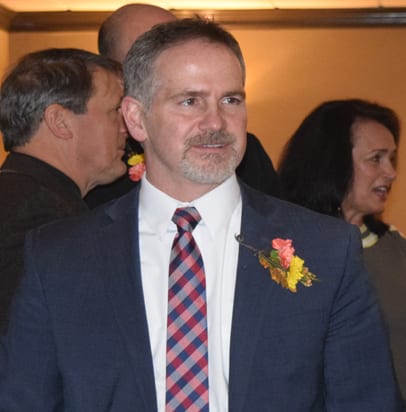 Daniel Richardson, a graduate of FMCC started his career in 1985 as a direct support staff at Lexington.   He received his Associate Degree in Liberal Arts from FM in 1997 before earning his bachelors in Community and Human Svcs Mgmt from SUNY Cobleskill.  Dan acquired a financial management certificate from Union Graduate College and is a certified Senior Professional in Human Resources.  Dan holds a Bachelor's degree in Human Services Management, attending SUNY Cobleskill, and Empire State College. He also holds a certificate in Financial Management from Clarkson University, and is a certified as a Senior Professional in Human Resources.
He is the Chief Operating Officer at Lexington where he leads a team that is responsible for support services to approximately 1,000 people with developmental and intellectual disabilities in over 90 locations throughout Fulton and Albany counties.
As a direct support staff, at the age of 18, while attending college, Dan's commitment, skill, and potential were quickly recognized.  Over the next 34 years, he worked in all areas of program operations and led multiple agency initiatives including the opening of day and residential programs, expanding into Albany County in 2011 and the opening of the Nigra Arts Center and Transitions in 2015.
Dan lives in Johnstown, serves on the Board of the First Choice Financial Federal CU and is a member of the Town of Ephratah Planning Board.
Dan enjoys time with family and friends, and is an enthusiast of the Adirondacks.
GET TO KNOW DANIEL—FUN FACTS
Favorite Color:                                                                 BLUE
Favorite Song:                                                                  10,000 REASONS
Favorite Band/singer:                                                    MATT REDMAN
Favorite movie and/or TV Show:                                 THE GREEN FILE, FRASIER
Favorite Food and/or restaurant:                                BAKED MAC & CHEESE, HOUSE OF PIZZA
Favorite sport and/or sports team:                             FOOTBALL, DALLAS COWBOYS
What did you want to be when growing up:              A PHYSICIAN
3 Things you MUST have if deserted on an island: COFFEE, RECLINER, MY DOG
First car owned:                                                              PONTIAC LEMANS
First job:                                                                           MOWING LAWNS
Favorite pastime or hobby:                                          WALKING BY THE LAKE
Something on your bucket list:                                    VISIT FIJI AND AUSTRALIA
Person you most admire:                                              MY MOTHER, ANNA MAY RICHARDSON
Most interesting person you've met:                          MY UNCLE, ROGER KORNBAU
Pets and/or favorite animal:                                        JACK RUSSELL TERRIERS
Favorite place to visit/vacation:                                  THE ADIRONDACKS
Something you do to unwind:                                      LISTEN TO CLASSICAL MUSIC
Favorite quote or words of wisdom:                            "START BY DOING WHAT'S NECESSARY; THEN DO WHAT'S POSSIBLE; AND SUDDENLY YOU ARE DOING THE IMPOSSIBLE", FRANCIS OF ASSISI