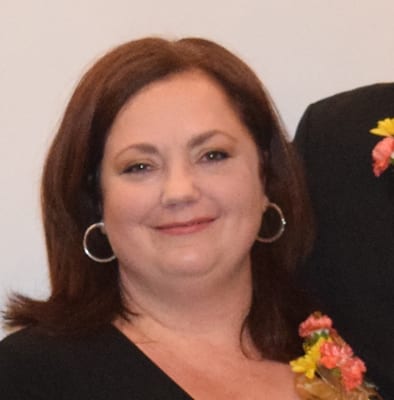 Karlyn LaBate, an Amsterdam High School graduate is currently the Program Director for Radiologic Technology at FMCC and is also employed at St. Mary's Hospital, Amsterdam for the past 29 years.  
Karlyn is a registered technologist in Radiography, Computed Tomography, Mammography, and Cardiovascular Interventional. She earned a M.S. in Health Administration and a B.S from the University of St. Francis, and an Associate of Arts from Fulton-Montgomery Community College in 2007.  Karlyn also earned a Radiologic Technology Certificate from Albany Memorial Hospital and completed coursework as a Radiologist Physician Assistant at Bloomsburg University.
Karlyn belongs to the American Society of Radiologic Technologists (ASRT), and the Association of Educators in Radiologic Technology (AERT). She is a board member for the New York State Society of Radiologic Sciences. At FM, she is a member of the colleges Speakers Bureau, and club co-advisor for the Medical Imaging Student Association (MISA). Karlyn also acts as the Community Educational Coordinator for Radiologists without Borders (RWB).
Karlyn has an enthusiasm for health care, teaching, mentoring, and building a community of imaging professionals. She resides in Saratoga with her husband and two daughters.  Karlyn loves her family, friends, and her animals! Her husband, brother, and oldest daughter are also FM alums.
GET TO KNOW KARLYN—FUN FACTS
Favorite Color:                                                                PURPLE
Favorite Song:                                                                 STAND BY ME AND DREAM BY AEROSMITH
Favorite Band/singer:                                                   MICHAEL JACKSON
Favorite movie and/or TV Show:                                THE CROWN, IT'S A WONDERFUL LIFE AND DIRTY DANCING
Favorite Food and/or restaurant:                               PASTA AND MY HUSBANDS COOKING
Favorite sport and/or sports team:                            SOFTBALL, MY DAUGHTERS, SARATOGA THUNDER, EQUESTRIAN SPORTS, DOG AGILITY, NEW YORK YANKEES-MLB
What did you want to be when growing up:             WRITER AND A DOCTOR
3 Things you MUST have if deserted on an island: FAMILY, FRIENDS, FOOD-WATER
First car owned:                                                              HONDA CIVIC-STANDARD
First job:                                                                           PAPER ROUTE AGE 10/11
Favorite pastime or hobby:                                          SPENDING TIME WITH FAMILY, RESEARCHING PARTICULARY HEALTH-CARE, READING, KNITTING, GARDENING, DOG TRAINING
Something on your bucket list:                                    GO TO GERMANY TO SEE ROENTGEN X-RAY LAB, DO MISSIONARY WORK,
Person you most admire:                                              DR. TOM CATENA
Most interesting person you've met:                          LOUIS ALFIERI, MY BROTHER TY
Pets and/or favorite animal:                                        HORSE, DOGS (ED, MARLEE, MAE), RABBIT, CAT
Favorite place to visit/vacation:                                  OCEAN CITY MARYLAND, REHOBOTH BEACH, ASSATEAGUE ISLAND
Something you do to unwind:                                      PRAY
Favorite quote or words of wisdom:                           FOLLOW FOUR AGREEMENTS; ALWAYS DO YOUR BEST, BE IMPECCABLE WITH  YOUR WORD, NEVER TAKE ANYTHING                      PERSONAL, NEVER MAKE ASSUMPTIONS
Favorite memory of FM:                                              GIVING MY DAUGHTER HER DIPLOMA, AND SEEING HER JOY IN HER ACCOMPLISHMENT, EVERY PINNING/ WHITE COAT CEREMONY