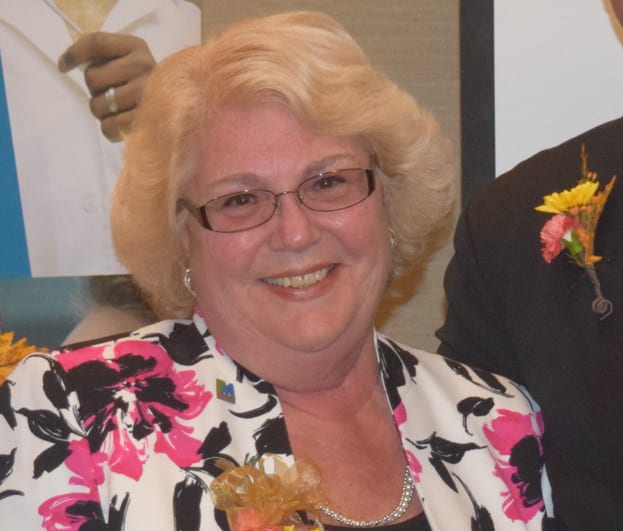 Jeanne So was born and raised in Amsterdam and graduated from Wilbur Lynch High School.   She attended FM Community College taking classes toward an Accounting and Business Management degree. 
Jeanne worked at Rulison Tannery for many years reaching the position of company president.  Seeking a career change, Jeanne went back to FM and graduated in 1995 with a A.A.S. in Nursing.  She worked at Community Health Center for 3 years and then accepted a position at the Sanford Home as the administrator and held that position for 18 years before retiring in 2018.
During her years at the Sanford Home, Jeanne oversaw a $2.2 million dollar addition and expanded the employment from 18 to 36 staff.  Jeanne's community involvement also kept her quite busy being past board president and current District Coordinator for Rotary International.
She also served as president at the Inman Senior Center for 6 years.  Adding to the list, Jeanne was past treasurer of the District 10 Nurses Association, former board member of FM Chamber of Commerce, current member of OFA Advisory Council, Amsterdam Historical League Treasurer, and is an active participant as a wellness minister of Fulmont Community Church in Gloversville.
Jeanne has received many awards; 2006-Rotarian of the year, 2007-United Way Community Award, 2009-Montgomery County Chamber Ambassador, 2010-Nurse of Excellence, 2012-Father Girzone Crystal Pillar Award (OFA) and 2017-Soroptimist Ruby Award.
Jeanne is the mother of 4 and the grandmother of 6.
GET TO KNOW JEANNE—FUN FACTS
Favorite Color:                                                               BLUE
Favorite Song:                                                                AVE MARIA
Favorite Band/singer:                                                  ALL OF THE "OLDIES"
Favorite movie and/or TV Show:                               GONE WITH THE WIND
Favorite Food and/or restaurant:                               NICE RARE JUICY STEAK
Favorite sport and/or sports team:                            BASEBALL – YANKEES AND MOHAWKS
What did you want to be when growing up:             A NURSE
3 Things you MUST have if deserted on an island: WINE, TOOTHBRUSH, BLANKET
First car owned:                                                              1962 MODIFIED CHEVY SUPERSPORT,4 ON THE FLOOR
First job:                                                                           NURSE'S AIDE AT 16 AT ST. MARY'S HOSPITAL
Favorite pastime or hobby:                                          BASEBALL
Something on your bucket list:                                    VISIT ALASKA
Person you most admire:                                             MOTHER TERESA
Most interesting person you've met:                          HILLARY CLINTON – (BUT NOT A FAN)
Pets and/or favorite animal:                                        CHICKENS
Favorite place to visit/vacation:                                 GULF COAST OF FLORIDA
Something you do to unwind:                                      READ
Favorite quote or words of wisdom:                          "PEACE BEGINS WITH A SMILE", MOTHER TERESA