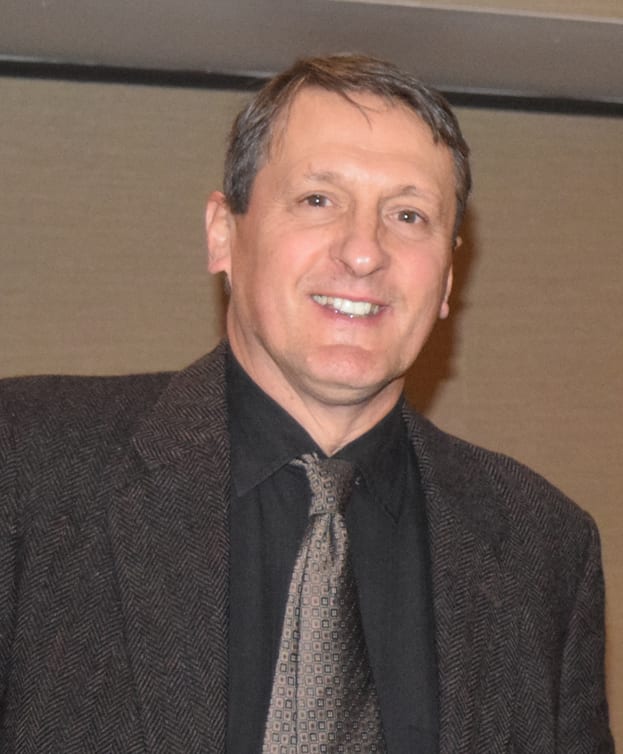 An alumnus of FM, Joel Chapin has been a professor of Fine Arts and the Director of the College's Perrella Gallery at FM for approximately 28 years.  Growing up in the north country of New York, he developed his two passions; nature and art.
He earned a Bachelor of Science in Printmaking from Skidmore College and a Master of Fine Arts in Drawing and Painting from University at Albany which landed him a job as curatorial assistant at Albany's Institute of History and Art.  Joel then took a position as Gallery Director for the College of Saint Rose in Albany.  He also was curator of eight exhibitions as Director of the Picotte Gallery at the College of Saint Rose from 1984-1986. After that, he took a position as a teaching technician for Empire State Theatre Institute.  In 1990 Joel accepted a position at FM and has been a curator of 57 exhibitions at FM's Perrella Gallery including; John Van Alstine's "Mirror to the Mountain" sculpture, Larry Poon's "Recent Works," Jules Olitski's "Small Mountains", Jonathan Singer's "Botanica Magnifica," and Caroline Rammersdorfer's "Inner-View Expanded."
In 2014 Joel launched a study abroad experience at FM guiding students and community members to Peru, Belize and London.
A recipient of the "Chancellor's Award" for Excellence in Teaching and Montgomery County 4-H Leader of the Year, Joel's permanent collections can be seen at the State University of New York and The Hyde Collection in Glens Falls.
Joel married his wife Linda in 1987.  They have one daughter, Sarah and three sons; Benjamin, Ian and Lucas.