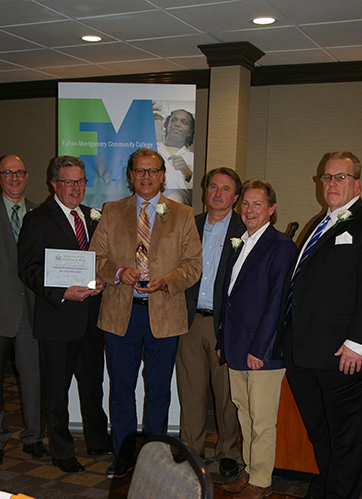 The Johnstown Hospital Foundation was created after the Johnstown Hospital was reinvented into the Regional Health Center.
The Foundations purpose was to make sure Johnstown residents would not lose easy access to emergency care, and to a greater extent, healthcare in general, once the hospital closed.  The Foundation also wanted to give significant support to JAVAC (Johnstown Area Volunteer Ambulance Corps).  Additionally, the mission of the Foundation included supporting Nathan Littauer Hospital (closest and most used Hospital), Hospice, and Fulton- Montgomery Community College (recognized for the College's role in educating healthcare workers).
Since 1991, over 3 million dollars has been awarded to these various organizations. Fulton-Montgomery Community College has been a recipient of a portion of those dollars.  The Johnstown Hospital Foundation has supported FM through scholarships and upgrades for equipment, to supplement healthcare programs.  Recently the FM Radiology Lab was the recipient of $118,000.00, from the Johnstown Hospital Foundation, to renovate and advance the "Rad Tech" lab. The major portion of this donation will be used to purchase digital imaging equipment, a pediatric phantom, skeletons, and mammography software. This donation allows FM to be competitive in attracting students and to offer the best training on the most up-to-date equipment and materials.  Because of these upgrades FM is able to provide the clinical sites with students that are well prepared for Radiology Lab positions.
The Johnstown Hospital Foundation's continues to ensure that there is a healthcare safety net for Johnstown and the surrounding areas.  Through their continued financial support to institutions like FM, the Johnstown Hospital Foundation can foster the improvement of the quality of medical, hospital, healthcare, and extended healthcare to the citizens of Johnstown and surrounding areas .