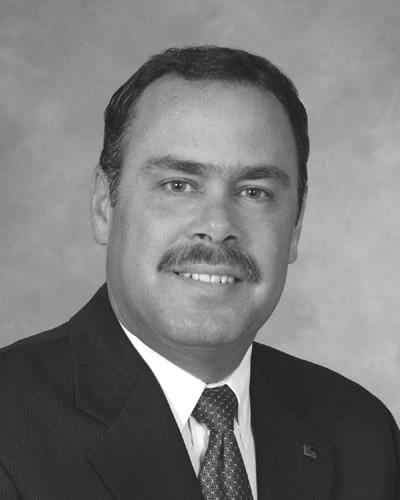 Mike grew up in Amsterdam and graduated with high honors from Bishop Scully High School's Class of 1976. He then entered into FMCC's Business Administration program and graduated in 1978. He continued his education at SUNY Plattsburgh and graduated in 1980 with a B.S. in Business Management.
Today, Mike is Vice President and Regional Lending Manager at NBT Bank in Gloversville. His commitment to the community shows through his various leadership roles including Board Member and Immediate Past Chairperson of FMCC's Foundation Board where it should be noted during his two years as president, the Foundation received over $310,000 in revenue and support.
He also served as the Foundation's Golf Committee Chair for six years. During this time, the Annual Golf Tournament brought in over $140,000. Mike is also a Trustee and Finance Committee Member to St. Mary's Hospital in Amsterdam and an Amsterdam Rotary Club member. He was Chair of the Board for the Montgomery County Chamber of Commerce. He held offices as President and Vice President for the Board of Directors of Catholic Charities of Montgomery County. Mike is a lector and Eucharistic minister at his church and
volunteers for several community organizations.
Mike is also very involved with sports. He spent the last 13 years as a local radio
announcer covering football games for both Amsterdam and Fonda-Fultonville High Schools. He has coached AAU and CYO Girls' Basketball and Softball. He continues to be an active participant in local basketball, softball, and golf leagues.
Mike is married to Alison Pepe and they have two daughters, Meghan and Leah.
Personal Message from Michael J. Pepe
I thought I'd come full circle a couple of years ago when my position as chairperson of the College Foundation Board of Directors allowed me to walk down the same aisle of the school gymnasium that I walked down as a 1978 graduate of FMCC. But now, as one of the first recipients of the College's newly established Distinguished Alumni Awards, the circle has been completed more than I could have ever imagined. FMCC provided me a quality affordable start to my college career at a time when family economics were not conducive to four-year school prices. After receiving an A.A.S. in Business Administration, the transfer to SUNY Plattsburgh was seamless. There were a lot of good times at FM, both inside and outside of the classroom. Being gainfully employed in the banking industry for the past 30 years, it's safe to say the professors I remember the most were my business professors, from Bruce Jacobs to Jim Marra and Andy Demarco. But the one that made the biggest impression was Al Mastrangeli. I remember my first day of class in Business Principles 101, he entered the room and put three letters on the blackboard " OPM" and proclaimed this was the reason why businesses existed and asked us to figure out what the acronym stood for. After no one could, he indicated it stood for "Other People's Money"! Thank you FMCC for the memories